I am currently waiting for my flight to Manchester to attend another GUADEC!
This year I am also giving a presentation about the application story in Endless OS. Our infrastructure, our changes to GNOME Software, our heavy use of Flatpak, etc. Hopefully you'll find it interesting.
A good number of Endlessers will also be around and giving other talks. We're friendly people, so come talk to us!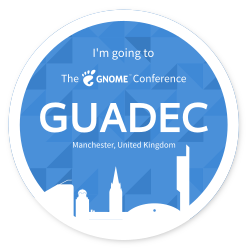 Many thanks to Endless for making it possible for me to attend the event, and I am looking forward to meeting everyone again!